The Omarsson Family created a separate children's bathroom
They love their split-level house from the 1940s, but at some point in the 1980s, the previous owners decided to do away with a lot of practical space – the good-sized bathrooms, for example. The Omarsson family has now changed all that.
Bathrooms don't have to be so bathroomy
In our family, we really do consider the bathroom to be the most important room in the house
Interior design runs in the family
"When we took over the house, there was only one bathroom with a bathtub in the entire house – along with a terrible shower in the basement," recalls Ragnar Omarsson. So the family decided on a major renovation project that included creating two bathrooms. The result? A home with a total of three bathrooms, as well as a guest toilet. The cellar has been converted into a separate, inviting studio apartment with its own bathroom and everything. It is often pressed into service when family members from Iceland drop by for a visit.
Ragnar is a photographer and works full-time shooting interiors; in addition, he has both interior designers and interior furnishers among his immediate relatives. And they all share the opinion that a home needs a lot of bathrooms. "It helps us keep out of each other's way," explains Ragnar. Multiple bathrooms helps prevent 'the bottleneck effect' in the home. It allows the family members to meet on their own terms rather than having to queue up for the insuffi cient wet room facilities.
Everyone can, for example, make it down to breakfast together without stress and panic. "It's hugely important," says Ragnar. "In our family, we really do consider the bathroom to be the most important room in the house."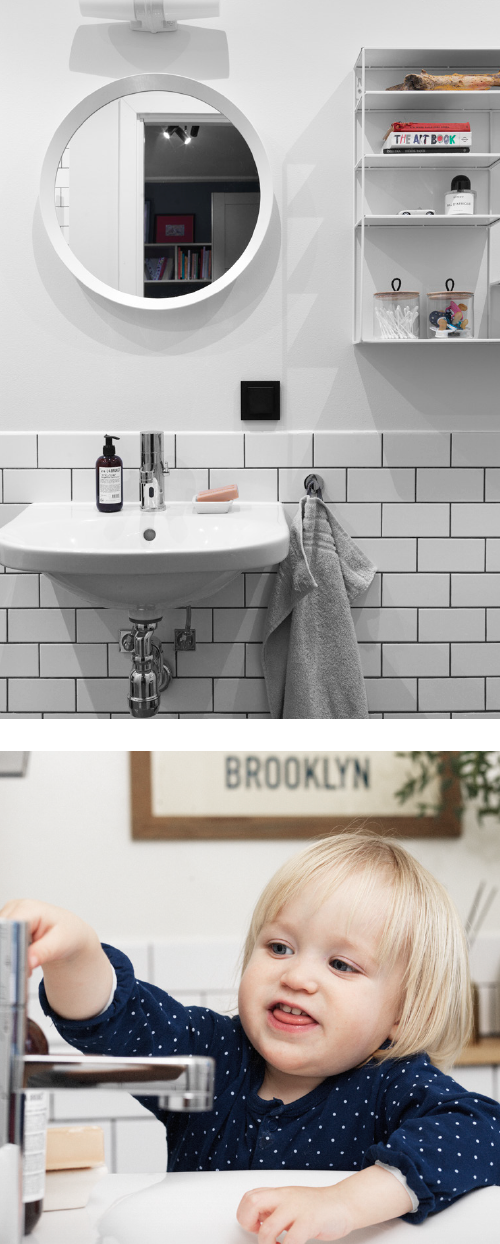 The children's new bathroom
In the 'parents' bathroom', Ragnar and Ebba have retained as much as possible of the original 1940s appointment – including original porcelain from Gustavsberg. To maintain a consistent theme throughout the home, they were also keen to add a dash of the same to Viggo and Karatina's new bathroom. They chose to remove a wardrobe to make room for a long and narrow wet room. The bathroom is positioned with one of the children's rooms on either side, creating a separate 'children's wing'. "It's the children's bathroom and there's always a lot of dashing about in there. But I sometimes sneak in to take a quick shower," relates Ragnar. "I've always wanted one of these showers where it feels like it's raining. It's a truly wonderful shower."
The 1940s live on
The aesthetics of the children's new bathroom reference the original bathroom in the home – with new porcelain from Gustavsberg. There is a sense of relationship in the expression. "We were keen to flirt with the 1940s, the period when the house was built. It's important to show consideration for the building's soul," he says. One example of the family's feeling for detail is Bernadotte's classic light fitting – in new production – positioned above the mirror.
How did it turn out?
"Following the renovation, everyone can see one another, and it's easy to put the kids to bed," says Ragnar. They can keep an eye on each other in their separate areas. And if they leave the door open, they can hear the grown-ups, too. Mixers with smart solutions are an added bonus. When children can do what they want in their own bathroom, it is important to have functions that automatically regulate the hot water temperature, and which prevent water from streaming out unnecessarily. When they drew up the bathroom, it was difficult to imagine a room just one metre wide – but the final result actually feels quite spacious. "A bathroom need not be overly large," explains Ragnar. He then adds with some satisfaction: "It turned out even better than I'd hoped."
Tips from the Omarsson family:
Don't underestimate the importance of planning.
You can be sure there will be hundreds of questions to answer and decisions to make once the building work starts.

Prepare a 'moodboard' that expresses your vision.
This is simple if, for example, you prepare it on the computer and have fun downloading screendumps from the internet.

Invest in a bit of professional help.
Someone to consult about your plans. In Sweden, we have a tradition for doing a lot of the work ourselves, but you will need some external help.

Bathrooms don't have to be so 'bathroomy'.
There's no law against creating plenty of space in all kinds of ways – it's actually only the damp course that is 'sacred'.

Hang some pictures on the walls. Why not?

Put money in the right things.
The prices of different tiles can vary enormously, but the difference in appearance may be minimal. However, things you can see and touch, such as pretty hooks and solid handles on cabinets and doors make a big difference.

Last but not least:
Work with a company recommended by someone you know. Don't put your trust in flashy internet sites – you need a personal recommendation. The best drawings and the best products won't protect you against bad craftsmen.