Your own shower – your way
Gustavsberg Shower
A shower to enjoy
Life in the bathroom should flow smoothly and appeal to all the senses. Especially when it comes to the most beautiful and intimate space in the home – your own shower. At Gustavsberg you will find easy-to-install, neat and functional showers to match all tastes and every kind of bathroom. Top quality down to the smallest detail, adjustable wall profiles, unequal-sided dimension combinations and smart elevating hinges (which lift the door slightly on opening) make it easy to choose the best possible solution for your bathroom. Moreover, most models are reversible and can be opened both outwards and inwards to save space.
Things to consider when choosing a shower
Installing a new shower wall requires preparation and planning. In many bathrooms, the shower corner has to fit in with a washbasin, a toilet and sometimes a washing machine as well. So measure your shower space carefully, and don't forget to think about where the other bathroom products are positioned – so that the shower door doesn't bang into an item of furniture every time you open it. If this looks like being a problem, our folding shower doors may well be the answer.
Minimal or spacious?
Installing a new shower wall requires a whole lot of planning. Shower corners have to interact smoothly with the washbasin, toilet and other bathroom furniture, so what are required are smart, flexible solutions – which often have to take up only a minimum of space. In such situations, a shower corner with folding doors may be the answer. In a spacious bathroom, however, some of our more generously sized shower doors may be the right choice instead. Choose between straight or rounded models. Choose profiles in classic chrome or daring black.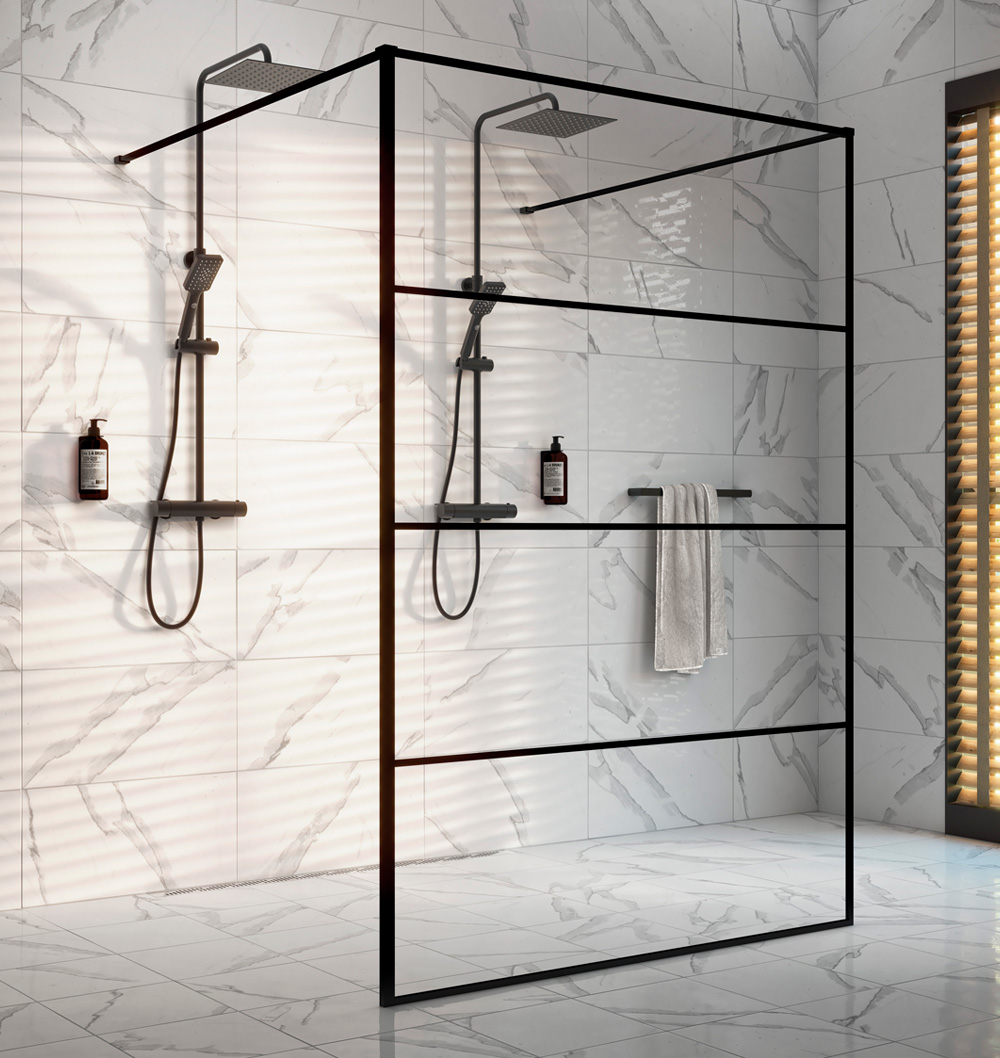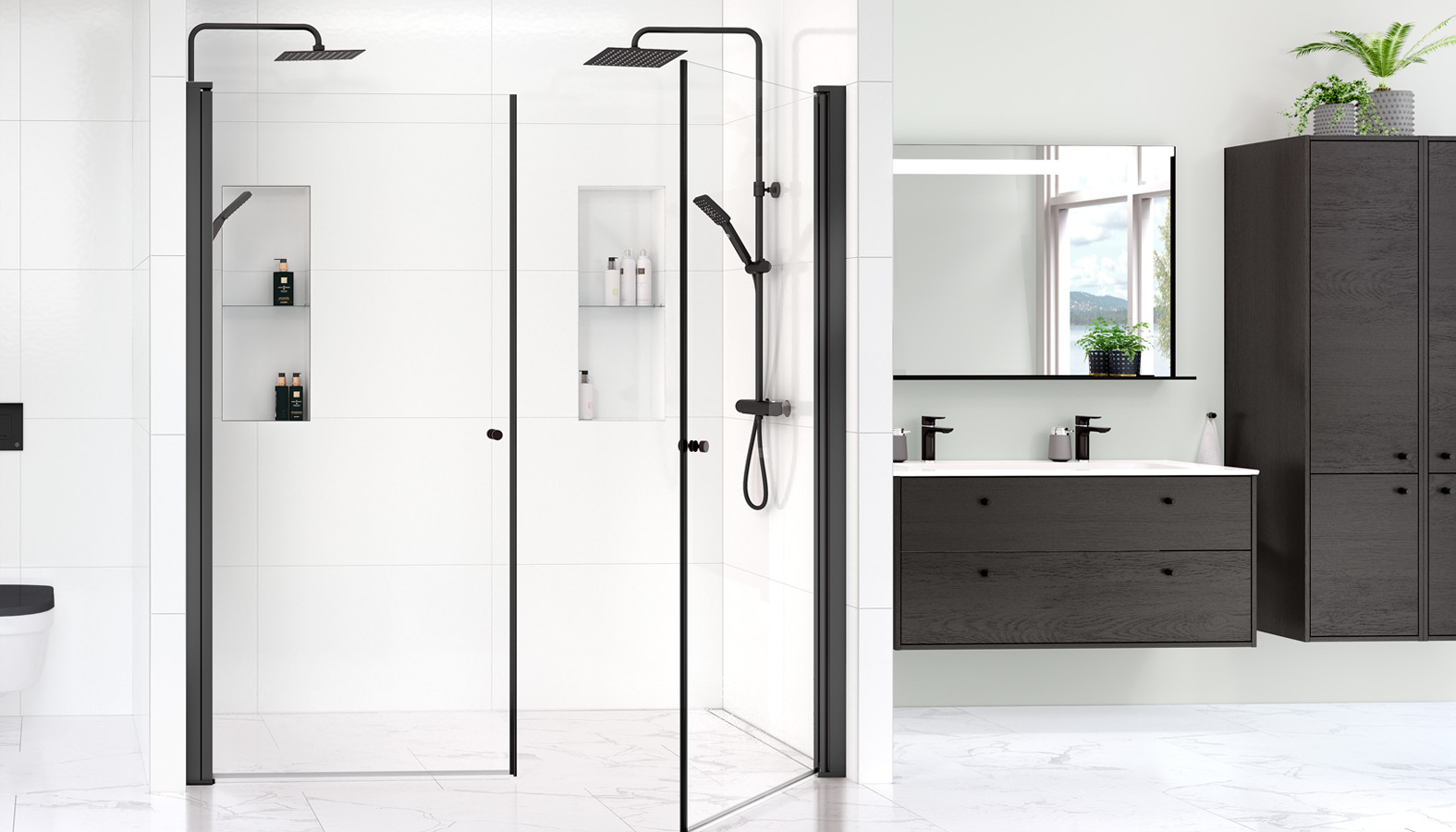 Black is back
The entire Gustavsberg shower range in classic chrome is now also available in matt black. Combine shower doors and walls with each other as best suits. To add more drama to the bathroom, choose a model in matte black instead, with matching faucets and shower sets.
Smart details for a wonderful shower life
Our shower solutions are equipped with small details that can make a big difference. Maybe not something you think about when you're standing in the shower, but you can be sure that we've thought of everything - from the assembly to the end result.
Double function
The support for the Square fixed shower wall can be used as a curtain rail.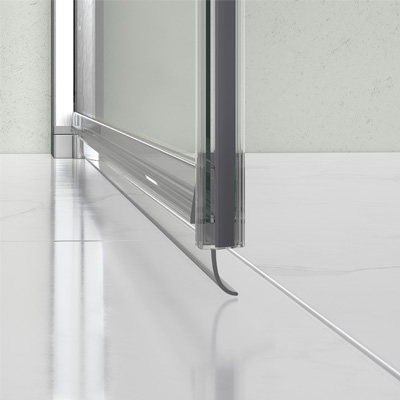 Keep the water in place
The lack of a floor profile makes the showers easy to use and simple to keep clean. They come with a floor profile that stops splashes. For aesthetic reasons, this profile is always transparent, even on the black shower models.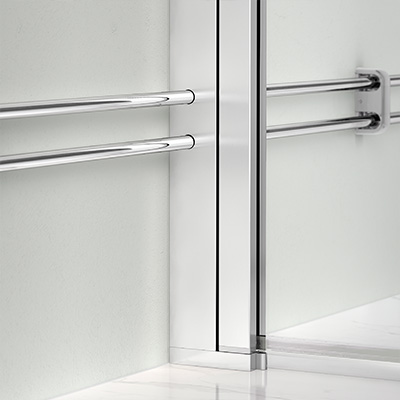 Smart holes for piping
The profile has space for cutting holes for external piping. Applies to all models except the fixed shower wall with glazing bars.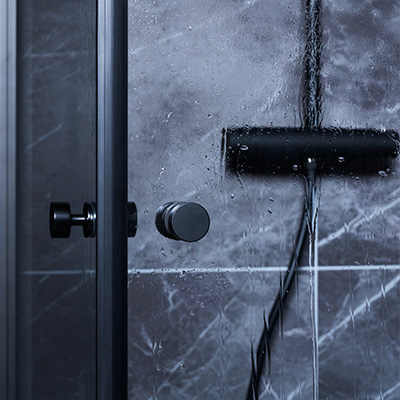 With a sense for details
Small details can make a big difference. Such as profiles and stylish knobs in the same colour. On the black showers, even the magnetic profile is black – how neat! The folding doors are without handles in order to save every possible centimetre when they are folded up.
Complete with a mixer and shower set
Match your new shower doors and walls with our wide range of shower mixers, shower sets and rain shower heads for a sweet, neat and functional set-up in your bathroom. No matter whether your main interest is in form, smart functions for saving water and energy or "simply" good quality, Gustavsberg lets you be price-, eco- and design-conscious at the same time.
An alternative for every bathroom
There are many different mounting options and many different combination possibilities for our shower doors and walls.
For exact measurements and adjustability for each door model, see the specification for that particular model. See all models and variants here.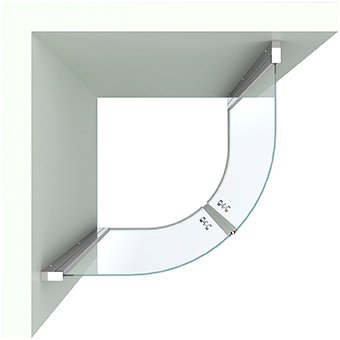 Round shower doors fitted in a corner.
Square shower doors fitted in a corner.
Square – two straight doors fitted in a line.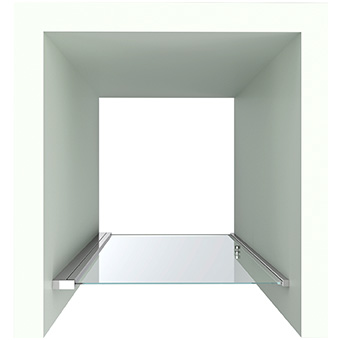 Square shower door fitted in a niche.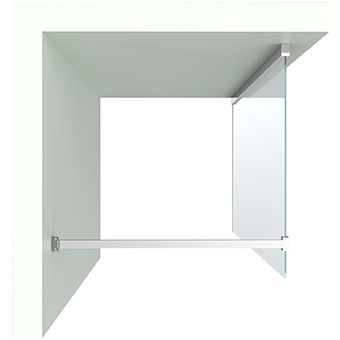 Square shower wall fitted in a corner
Square shower wall and Square shower door fitted in a corner.
Square folding doors fitted in a corner.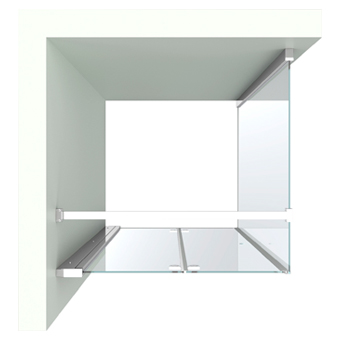 Square folding door with Square fixed wall fitted in a corner.
Square folding door fitted in a niche.
Square folding door with Square shower door fitted in a corner.
Square shower wall fitted in a corner or free to solid back wall.
Smart symbols for smart solutions
To help you find features that are important for your bathroom, we have created simple symbols that explain the benefits of our products.
Reversible
Shower doors that are reversible for right/lef t-hand installation; they can open both outwards and inwards, which helps save precious space.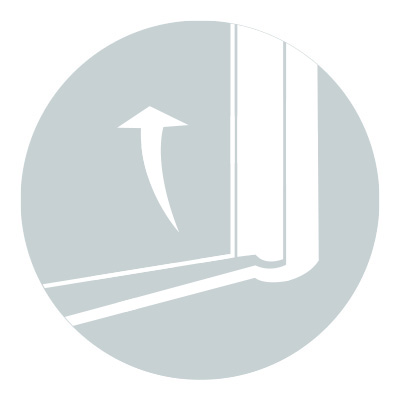 Elevating hinge
The elevating hinge is a smart detail that lif ts the shower walls 5 mm ever y time you open it. This minimises wear on both the floor and the shower doors. A practical function that provides a sense of authentic luxury.
Why does life so often play out in the bathroom?
Could it be because it's the only room in the house where it is permitted to lock the door behind you? Or could it quite simply have to do with an innate love of warmth, water and bare skin?
Here is everything you need to make the most of memorable moments in your own bathroom.