From wetroom to fine room in 10 years
Christoffer Robsahm
Published May 2018
Christoffer Robsahm is a registered real estate agent working for Erik Olssons estate agency in Stockholm, and he has more than ten years of experience in selling both detached houses and cooperative flats. We asked him about the importance of the bathroom to the overall impression of the home.
Tags
Kylpyhuone, Remontti, Kiinteistökehitys, Inspiraatio
Eagerness for interior design
Christoffer explains that when he began his career, most people chose standard solutions for their bathrooms. This is no longer the case. Particularly in detached homes – where people tend to stay living longer and have more space to work with than in flats – spa-like solutions have become increasingly common.
From white to cosy
Bathroom style has transformed from 'clean and white' to more expressive and snug. Towels, rugs and soaps are used to add dashes of colour. And it is not unusual for people to decorate wet rooms with candlesticks, plants and furnishings. Atmospheric lighting is a major plus as well.
The bathroom has become an important space where people enjoy spending time. It's no longer reserved exclusively for getting ready for work in the morning and for bed in the evening.
From wet room to fine room
The word 'functionality' has almost become obsolete in this context. Today, it is all about design and furnishing; about creating an impression and showcasing your personality. A lot of people choose to renovate their bathrooms even though they may still have years of service left in them.
Christoffer is convinced that the bathroom has taken on greater and greater importance in the home in step with more and more people finding everyday life a source of stress. It is in the bathroom that we have time to ourselves.
Cheaper to build expensive bathrooms
The Swedish household tax deduction (ROTavdrag) for maintenance, repair and renovation has had an effect. But in Christoffer's opinion, the development in house prices themselves – especially in the big towns and cities in Sweden – has played a key role as well. When prices rise so quickly, they generate a kind of reverse economics: the more you pay for a home, the less it costs – as a percentage – to remodel the bathroom.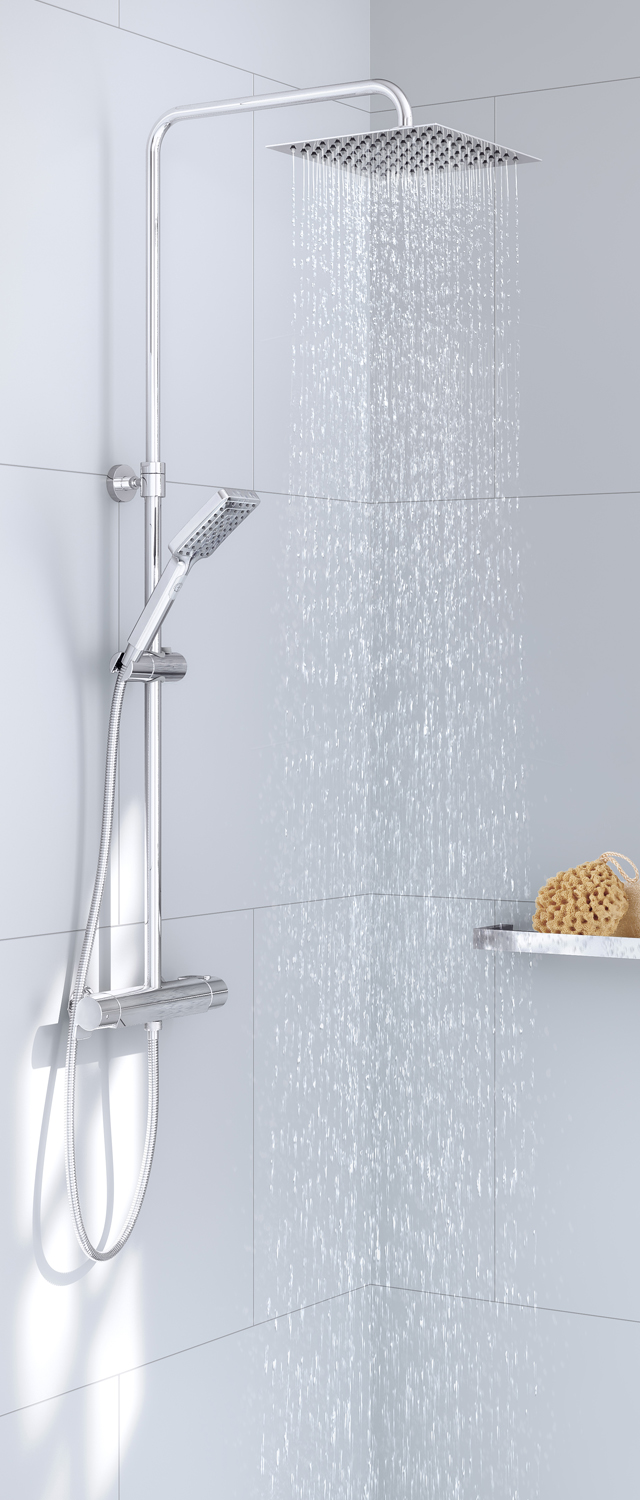 About the importance of the bathroom:
The standard of the bathroom is one of several factors that affect the price of your home. However, property evaluation is a subjective art and, as Christoffer explains, you need to take a more general approach and ask yourself 'what is the overall impression of this place'?
About getting ready to sell:
If your home is in generally good condition, the bathroom needs to match the standard. In this case, it can pay dividends to renovate for the sake of the overall impression.
If the whole building needs renovating, the condition of the bathroom is not as important – the buyer is already prepared to start work on upgrading everything.
It is still a better bet to choose an absolutely neutral floor, tiles and bathroom furniture. You can always add the snug, personal touches later.
About the little things that make a difference:
You don't always have to change everything to improve the overall impression. There are small changes you can make to the bathroom that have a huge effect:
Replace the washbasin and/or a vanity unit and/or a toilet seat.
Replace any cabinet that has seen better days.
Replace a tired, old bathtub with neat, new shower walls.
The bathroom has become a snug little space where people enjoy spending time.
It's no longer reserved exclusively for getting ready for work in the morning and for bed in the evening.
In addition to design, good taste and tasteful decoration, the modern bathroom should ideally express personality.
The more expensive the home, the cheaper it is – as a percentage – to remodel a bathroom.