Today's luxury
Having a massage tub is a dream come true for many people. It is delightful to take a bath among whirls and bubbles, and slipping into a warm massage bath has a positive effect on our bodies. The hard-working water actually has a beneficial effect. The warmth, the stimulation of the skin and the massage from the jet streams are genuinely good for you.
And you need not worry about the environmental impact of taking a bath. A normal size bath holds around 200 litres of water. With a shower flow of 12 litres per minute, showering for 15 minutes is the same as filling a bathtub. Considering that most people do not take a bath as often as they shower, you can certainly treat yourself to a delightful bath occasionally. Not forgetting, of course, that it is much more relaxing and beneficial to soak in a bathtub for half an hour than to stand in the shower for 15 minutes.
Today's luxury is time; it is something many of us would like more of.
In fact, the most common answer to the question of what people want most in life has become: "more time".
So it is important occasionally to switch off the phone, unplug the computer and devote some time to ourselves.
The right time to kick back and relax is when you don't have the time.
Find the right bathtub
The sheer number of different systems, technical terms and expressions can be confusing. So let us try to guide you through the 'bathtub jungle' and give you some tips about things to think about when choosing a massage bathtub.
Right dimensions:
One of the most important questions to answer is: what shape and size do you want your massage bathtub to be? Check carefully to make sure there is room for the tub in your bathroom. For example, will it actually fit through the bathroom door?
Test sit:
It is important that you have the chance to try sitting in the tub before you buy it. Is it deep enough? Can you sit/lie in it comfortably, and is there enough room for your arms and legs?
Right massage:
What type of system do you want? There's a difference between bubbles and bubbles. If you want soft, gentle relaxation, then a bottom-mounted aeration system is probably best. If you are looking for a truly delightful massage experience, then you need to find a proper massage system where anatomically positioned and adjustable massage jets create a personal massage therapist in your bathroom. Extra back massage is an optional extra that many people appreciate.
Peace and quiet:
A long soak in a bathtub should be calming and relaxing. So check the noise level of the system – there may be big differences between the different makes.
Simple controls:
When you are lying in your bath, you should be able to relax and drift away rather than having to mess around with complicated massage controls. Choose a massage bathtub that is simple and straightforward, with few buttons.
Water and hygiene:
How do you fill the bathtub with water? Does the water flow from a tap, or does it come through a jet nozzle or the overflow vent? And how do you empty the tub again? If water remains in the system, there is a risk of bacteria growing or unpleasant odours arising. The air system should feature an automatic blowdry function, and the massage system should be self-draining.
Good design:
A massage bathtub is an investment that should last a long time. Choose a tub with a timeless design, and invest in visual quality.
Safe and secure:
Invest in a high-quality massage bathtub fitted with appropriate safety functions such as an anti-tip frame and reliable safety intakes. Focus on quality – it will pay dividends in the long term.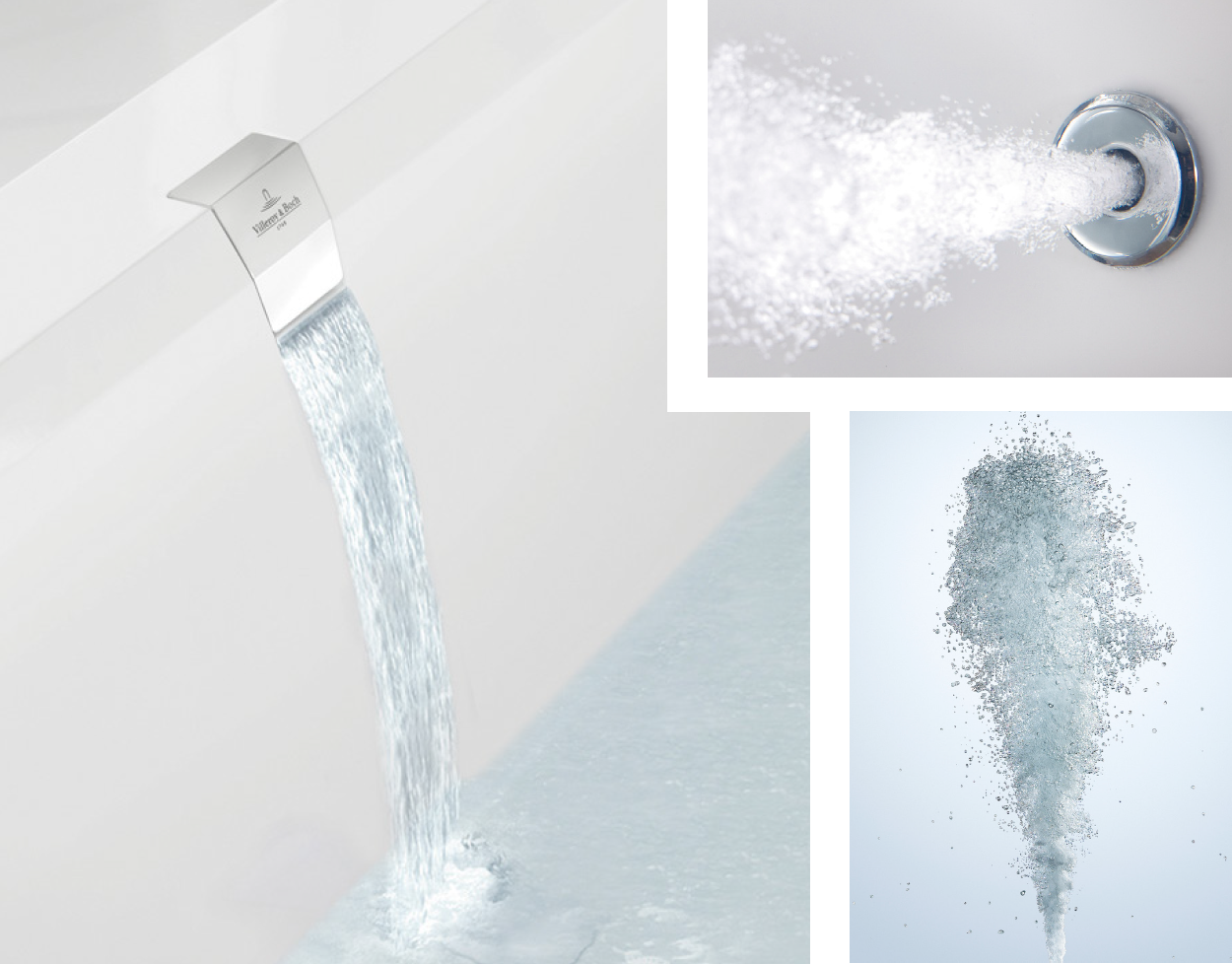 11 benefits of
Massage bathtubs:
Soften and stretch tired muscles
Increase the blood circulation to the muscles
Boost lymph circulation
Have a relaxing effect on the body
Encourage deeper, calmer breathing
Improve the discharge of fluid and residual products
Have a beneficial effect on aches from exercise
Counteract tension if areas of pain
Counteract stress
Have a calming effect on the nervous system
Boost the general well-being of the body