Fixture Triomont XS - for toilet with wall control panel
Neat installation, with a minimum of visible pipes
Fixture Triomont XS - for toilet with wall control panel
Dual flush 6 or 3l and single flush 6l
Neat installation, with a minimum of visible pipes
Large range of flush buttons in different materials and colours
Suitable for installation on a straight wall or in a corner
Article number: GB1921102020
EAN-number: 8711778140813
PRODUCT INFORMATION
Mounted per included installation instructions.The height dimensions (1000 mm) of the drawing mean a seat height of 410-430 mm depending on the toilet model.Can when installed be adjusted up to 610-630 mm.Flexible bolt spacing for wall-mounted toilet installation, c-c 180 or 230 mm. With bolt spacing 180 c-c, all toilets from Gustavsberg and Villeroy & Boch fit.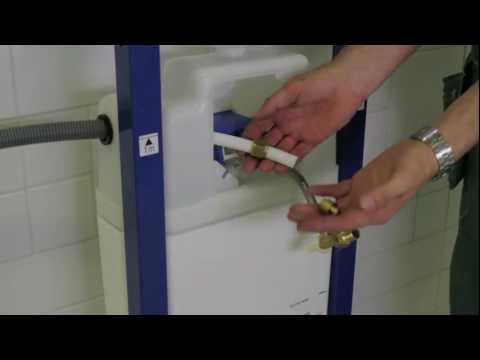 High model for installation on a straight wall or in a corner. Complement with a flush button and a wall-mounted toilet. It is the choice of flush button that determines single or dual flushing.
Weight: 14 kg incl. packaging.
Deep - 142 mm
Length - 1142 mm
Width - 385 mm
Space efficient construction, only 380 mm wide
Suitable for installation on a straight wall or in a corner
Upper and lower wall mounts included, floor bolts not necessary
Rotating wall brackets for flexible attachment point in wall
Mounted with a front installed mechanical flush button XS
Large selection of flush buttons in different styles, dual or single flush
The seat height is adjustable from 410 to 610 mm
Bolt spacing 180 or 230 mm
Fits all CE-marked wall-mounted toilets
SINTEF-certified, load tested steel frame 400 kg
Connections for floor or wall connected waste pipe included
Ready for AMA installation without any extra components (SE)
Show more
Show less
OTHER OPTIONS OF SAME PRODUCT
Acessories and assembly products