After a long and stressful day, there is nothing like a hot and relaxing bath. This level of comfort is relaxing for both body and mind. Our bathtubs are available in several different sizes and models. We have created a broad range in order to suit every type of bathroom.
Our bathtubs have a modern design, are easy to mount and of consistently high quality. We have chosen to show and inspire you with a selection of our best-selling bathtubs to make your bathtub choice easier.
Below a section of our best-selling bathtubs
FREESTANDING BATHTUBS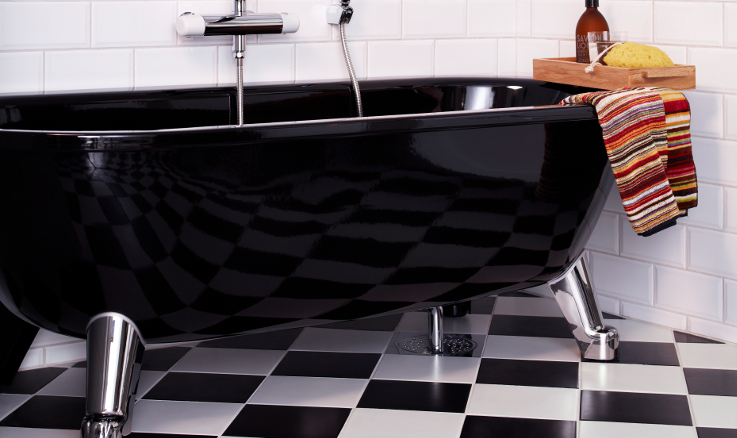 The freestanding bathtub 6316 is one of our trendy bathtubs. It has an oval shape with a centered draining system. The feet are replaceable and available in three different designs to give your bathroom a modern feeling.
BATHTUBS FOR SMALLER BATHROOMS
Sit bath 1051 suits you who have a smaller bathroom where there is no room for a normal-sized bathtub. The bathtub has an elevated seating which makes it comfortable and also easy to get in and out from.
BATHTUBS FOR LARGER BATHROOMS
The built in bath 6830 is perfect for you who have plenty of space in your bathroom. With its sloping ends, it is spacious enough to suit two people simultaneously.
PRACTIAL STANDARD BATHTUB
Bathtub with front 1300 is a true classic and suits almost every type of bathroom. It is also perfect for both showering and bathing. It is also easy to clean and has all the necessary qualities.
INCREASED SAFETY
The surface counteracts the risk of slipping when entering or leaving the bathtub. Moreover, it is located at the foot end of the tub so that it does not affect the overall bathing experience.
EASIER TO CLEAN
GlazePlus is a treatment which protects the surface of your bathtub against dirt and limescale deposits – which facilitates cleaning and reduces the amount of detergent you need to use.
EASY TO GET INTO AND OUT FROM
You can order the bathtub with support handles on the rim to improve safety and ease of use.
The bathtubs presented above are you a small part of out broad range of bathtubs.
For more information about all our other bathtubs, click here.